WEDDING RECEPTION
Every guest expects an amazing dining experience.
Our chefs are famed for their exquisite cuisine, therefore we can guarantee the finest gastronomic delights.
MENU nr. 1 - 659 CZK
Rabbit croquette on Lyonnaise salad
Broth with liver dumplings and homemade noodles
Braised beef with creamy sauce, bread dumplings and cranberries
Chocolate cake with nuts, vanilla ice cream and raspberry coulis
MENU nr. 2 - 669 CZK
Amuse Bouche
Chicken broth with vegetables and liver dumplings
Braised shank of lamb with creamy spinach
Créme Brulée
MENU nr. 3 – 750 CZK
Beef carpaccio with parmesan shavings and virgin olive oil
Pork tenderloin with beer sauce with Savoy cabbage and potato gratin
Apple tart with almond ice cream
MENU nr. 4 – 750 CZK
Potato cream with cepe
Grilled chicken breast with rosemary sauce and vegetable ratatouille
Cheesecake with strawberries and cream Chantilly
MENU nr. 5 – 790 CZK
Marinated salmon with Frisée salad
Grilled zander with parsley sauce and Lyon potatoes
Cinnamon parfait with pears marinated in Port wine
MENU nr. 6 – 800 CZK
Venison terrine with lentils salad
Beef medaliony with mushroom sauce and potato gratin
Mascarpone dome with coffee cream
MENU nr. 7 – 990 CZK
Marinated veal leg served with tuna sauce and salad
Mushroom frikasé with ham dumplings
Grilled swordfish with Tabouleh salad
Strawberry mille-feuille
MENU nr. 8 – 970 CZK
Roasted scallops with cauliflower mousse
Duck consomme with Port wine
Venison medalions with Port wine sauce and French beans with bacon
Chocolate mousse with forest fruit
MENU nr. 9 – 1130 CZK
Parma ham with melon salad
Quail consomme with sherry
Veal steak with mushroom sauce, served with vegetables and roasted potatoes
Banana fluffy with caramel sauce and banana sorbet
MENU nr. 10 – 1290 CZK
Rabbit terrine with marinated vegetables
Ravioli of King crab with coconut sauce
Filet of tilapia with lemon-ginger glaze and grilled vegetables
Trilogy of chocolate desserts
Desserts od all menus can be replaced with wedding cake. Price will be reduced by 140 CZK. All menus are available for min. 10 guests. Rates do not include service charge of 66-129 CZK.

All buffet rates are valid per person, incl. VAT. Every buffet type is available for min. 25 persons. Rates do not include service charge of 67-91 CZK.
Content is subject to change.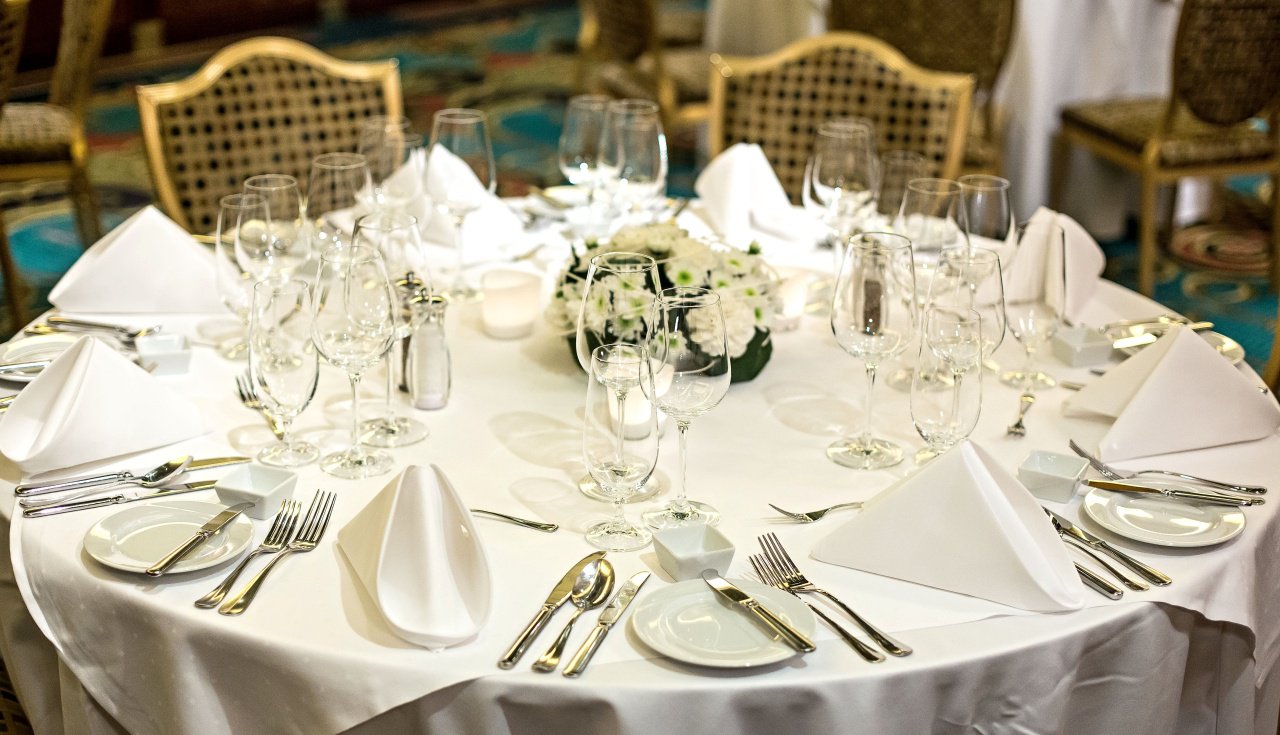 BUFFET RECEPTIONS

BUFFET nr. 1
670

CZ

K
APPETIZERS
Beef carpaccio with virgin olive oil and parmesan
Salmon tartar with quail egg and lemon vinaigrette
Turkey rolls with mustard and asparagus
Parma ham with melon salad and mint
SALADS
Salad Caprese
Dijon potato salad with watercress
Arugula salad with dried tomatoes and roasted pine nuts
Thai beef salad with vegetables
Greek salad
HOT DISHES
Potato cream with cepe
Braised chicken with white wine and rosemary
Penne all arrabbiata
Vegetable rice
DESSERTS
Strawberry Créme Brulée
Chocolate cheesecake with raspberry coulis
Praline eclairs


BUFFET nr. 2
770 CZK
Chef´s Choice Buffet
Special seasonal offer of our Chef
COLD APPETIZERS
Prime selection of meat cold cuts
Freshly made vegetable appetizers
Fish appetizers
Homemade terrine
Assortment of condiments and sauces
SALAD BAR
Freshly mixed garden leaves
Wide selection of dressings
Caesar salad with garlic croutons and parmesan
Three compound salads
Choice of bread and butter
SOUP OF THE DAY

MAIN DISHES
Meat main course
Quality poultry dish
Fresh fish dish
vegetable of the day
Variation of side orders
Freshly cooked artisan pasta
DESSERTS
Wide selection of desserts according to seasonal availability


BUFFET nr. 3


910 CZK


Chef´s Choice buffet II



COLD APPETIZERS
Selection of appetizers
Prime selection of cold cut ham and pates
Freshly made vegetable appetizers
Fish appetizers
Assortment of sondiments and sauces

SALAD BAR
Freshly mixed garden leaves with selection pof dressings
Caesar salad with garlic croutons and parmesan
Three compound salad
Bread and butter

SOUP OF THE DAY


MAIN COURSES
Meat main course
Poultry dish
Fresh fish main course
Vegetable of the day
Variation of side dishes
Freshly roasted meat (leg, whole turkey, beef etc.)

DESSERTS
Internatoional cheese selection
Wide selection of desserts